A visitor centre for a dairy
Grab the bull by the horns, lift bacteria as weights, compete with cows. The Vitarium, an institution of Luxembourg's largest dairy, is more than just an exhibition about milk and milk processing. It is a place where visitors can learn interesting facts about nutrition, exercise and health in an interactive and playful way.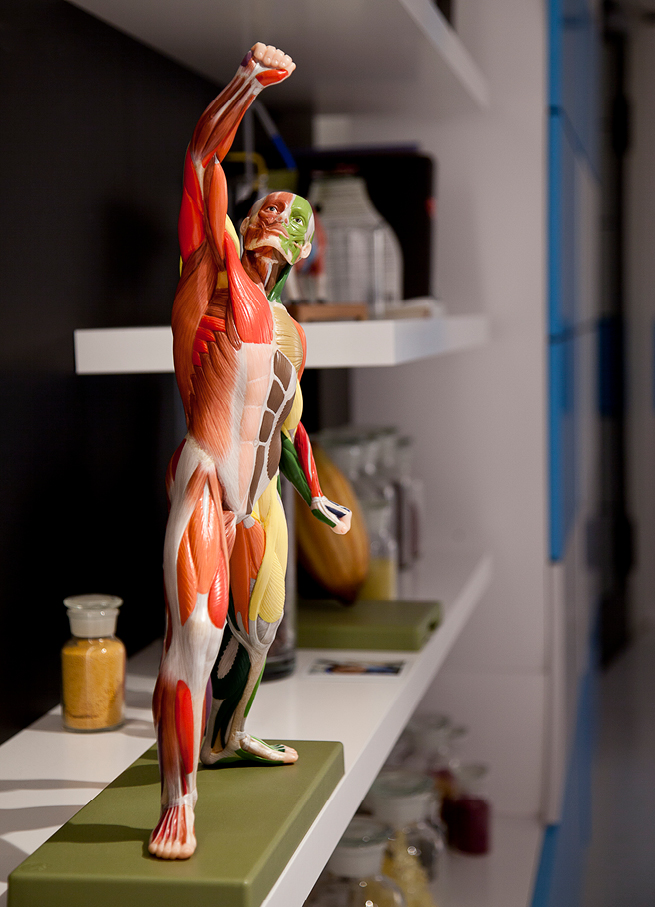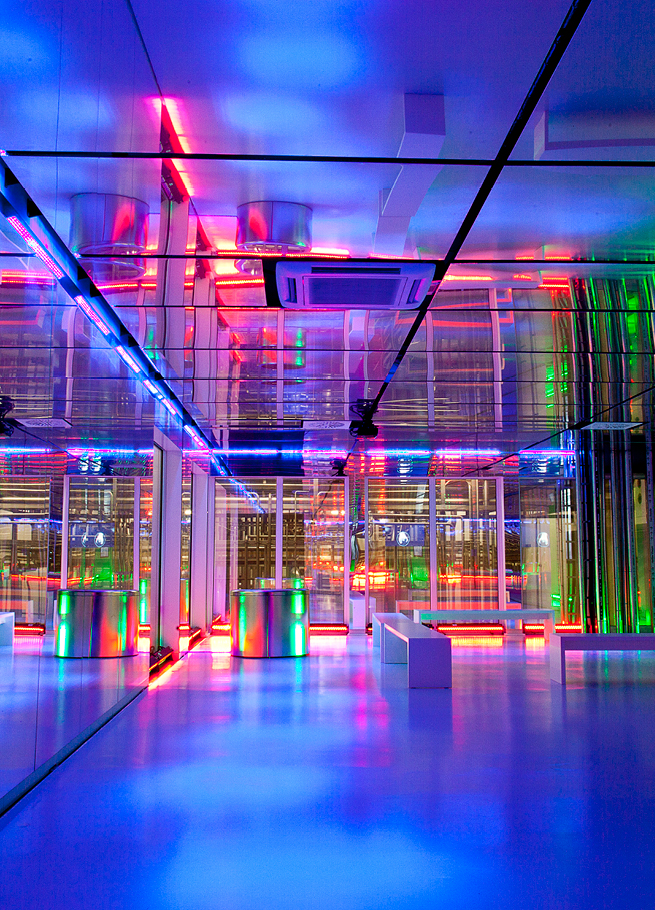 A feasibility study initiated the process of designing a visitor centre for the Luxlait dairy. In a dialogue with the customer, we developed a concept that does not provide a purely promotional product world, but instead is based on the general needs and interests of the visitors. The result is an education-oriented Science Center: Entertaining and inspiring to participate, the focus here lies on the topics of nutrition, exercise and health that are relevant to all of us. And in this context, of course, the dairy products from Luxlait. As a project of national importance, the Vitarium was supported by several Luxembourg ministries.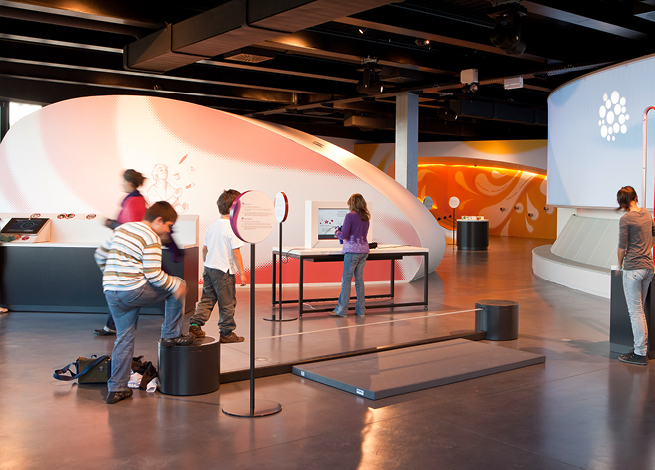 White is the colour of milk. Sure. But like light, which – at a first glance also white – actually contains all the colours of the rainbow, there is also a great variety in milk. The heart of the vitarium is also white like milk. The motive behind the idea of spectral colours can be seen on the outside of the White Heart, where various aspects of the milk (health, digestion, taste, origin…) are presented in colourful room elements that appear to have been thrown out. From the inside of the heart, visitors dive deep into the world of milk and encounter Caroline and Michel in a 3D cinema.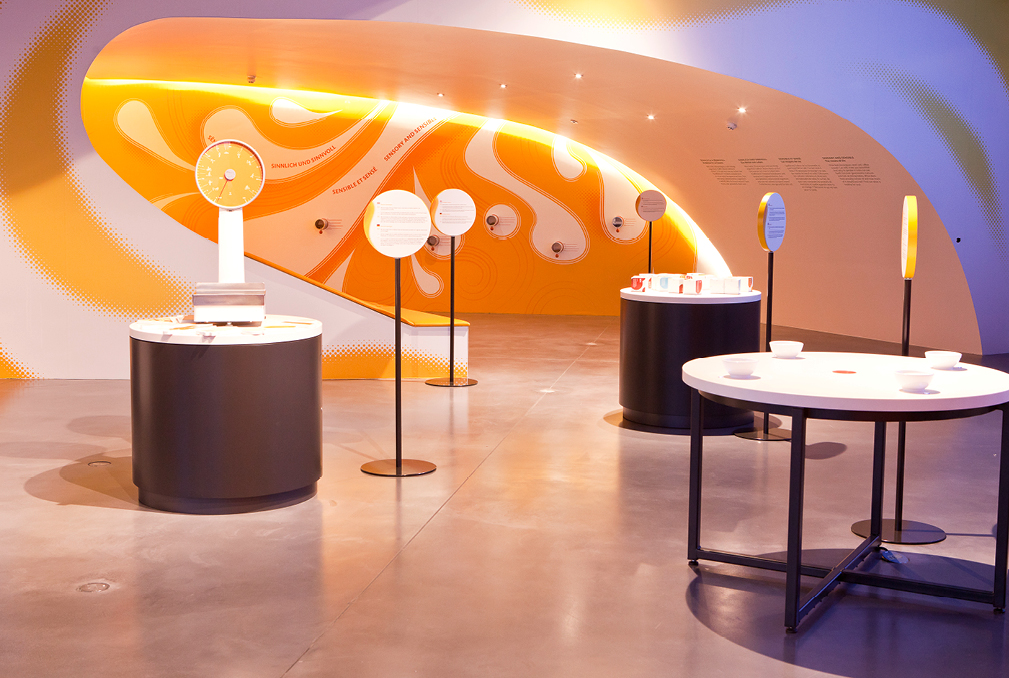 Many stories can be told about milk. But who tells them? The dramaturgical concept introduces two protagonists who speak from very different perspectives: Caroline, the virtual head of development, welcomes the visitors and proudly presents the modern and progressive dairy business. But this is where Michel, a milk boy from the 19th century, gets in her way. He slips out of a picture and actually knows everything about milk processing in the past.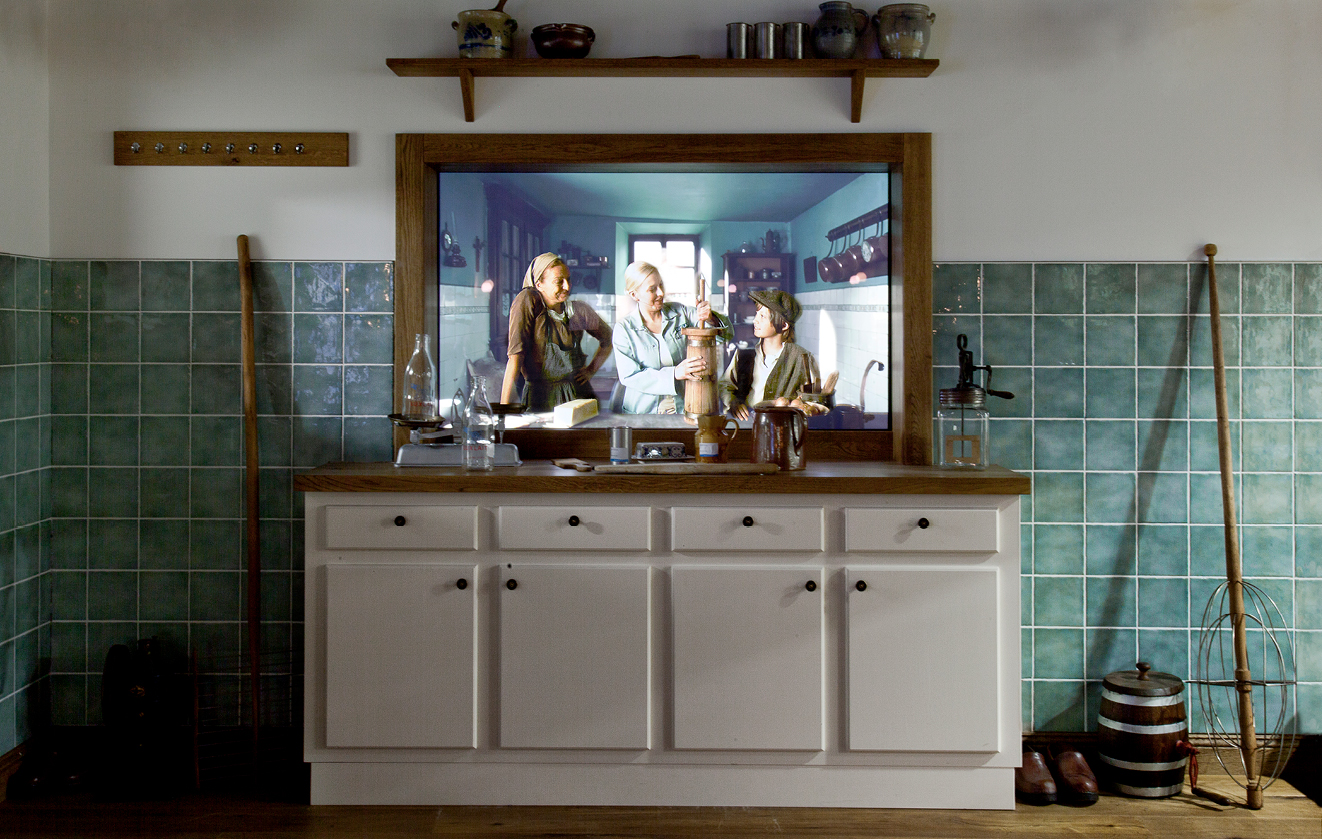 Where does my milk come from?
Cows are of course the key players in the dairy business. And so several exhibits – such as the cow's gaze, the hay stack or the drinking bowl – revolve around the cow and her way of life. But the life of the cows is also linked to the everyday life of the farmers: around 500 farmers deliver fresh milk daily from their farms to the Luxlait dairy. Visitors learn directly from them and through active participation which steps are necessary in modern dairy farming until the milk is on our table.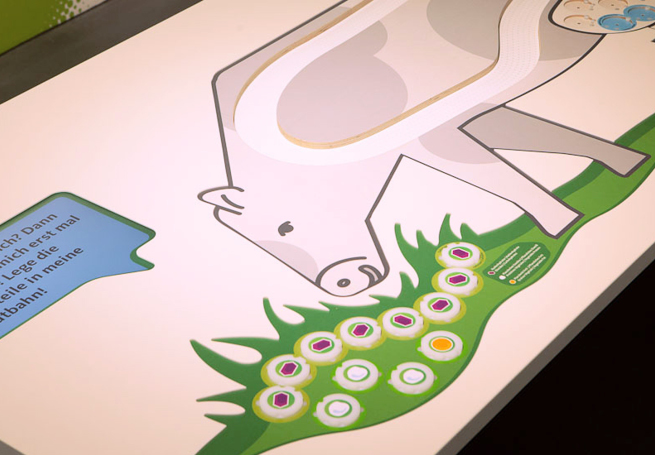 Service
Project development
Concept and Feasibility study
Marketing and public relations
Conception and scenography
Concept positioning and thematic definition
Development of dramaturgy and main idea
Content development and exhibition conception
Media conception and storyboarding
Development of interactive exhibits
Design and planning
Architecture
Exhibition design and planning in all project phases
Development of a Corporate Identity
Graphics and guidance systems
Exhibits and furniture
Project management and implementation
Project management (all phases)
Tenders and awarding
Production supervision and cost management
Content management and content production
Business consulting
Project information
Client: Luxlait Association Agricole
Execution period: 05/2007 – 11/2010
Exhibition area: 3.500 sqm (with tour)
Claudia Baulesch
Project Management and Head of Scenography