Control and switchgear construction 4.0
The company Rittal is a specialist for switch cabinets. But it is no longer enough just to build metal enclosures: Through company acquisitions, innovative development work and intelligent integration of industry 4.0 concepts, Rittal focuses on the entire value chain in control and plant engineering. In order to show customers how this works in practice, we simply brought the plant to the trade fair. The benefits of integrated digital data can be experienced here with the help of interactive presentation formats.
From engineering to delivery of the finished control cabinet and beyond, digital data plays a central role. But what exactly does this mean? What does digitalization mean in control and switchgear construction and what are the benefits for customers? To ensure that this does not remain abstract, we showed in concrete terms at SPS 2015 how the entire process chain of enclosure construction 4.0 is presented at Rittal.
An unusual exhibition stand. Industrial floor coverings with arrows, unusual lighting, stand employees in work clothing: Visitors are invited to take a guided tour of Rittal. Here they can experience what digitalisation means in plant construction.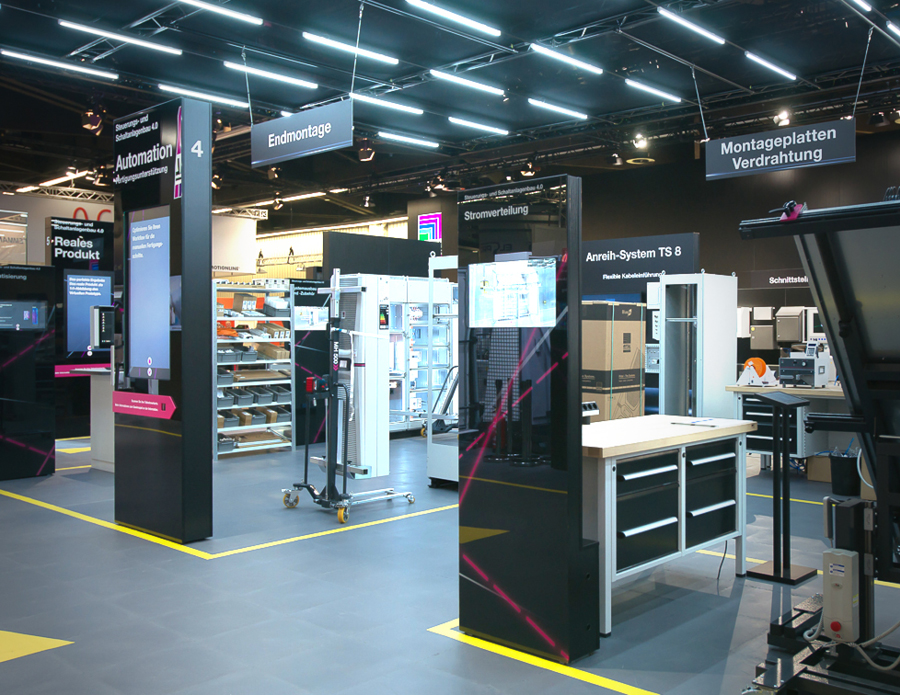 In addition to the trade fair stand at SPS IPC Drives 2015, we developed a comprehensive communication strategy for Rittal, with the aim of making the previously craft-oriented industry familiar with the benefits of end-to-end digital processes. A sophisticated statement matrix enables both bottom-up and top-down communication. Digitization in companies confronts management as well as employees in the shop floor with challenges and must be supported by all sides.
Service
Conception and scenography
Conception fair stand
Storyline
Design and planning
Stand Design
Production animations
Project management and implementation
Project management
Production monitoring
Cost management
Jelena Blank
Head of Interaction