Phoenix Contact Solutions Center
Showroom Solution competence
Phoenix Contact presents itself in the foyer of its company headquarters in Bad Pyrmont as a vendor of comprehensive solutions for electrical engineering and automation. For this purpose, we have developed and implemented a concept in the form of the 'Phoenix Contact Solutions Center', which is centered around the 'world of solutions'. Visually memorable and experience-oriented, the Solutions Center represents the core of the brand.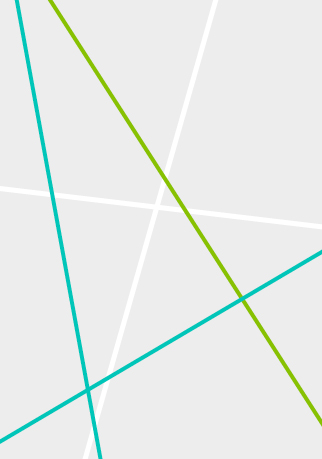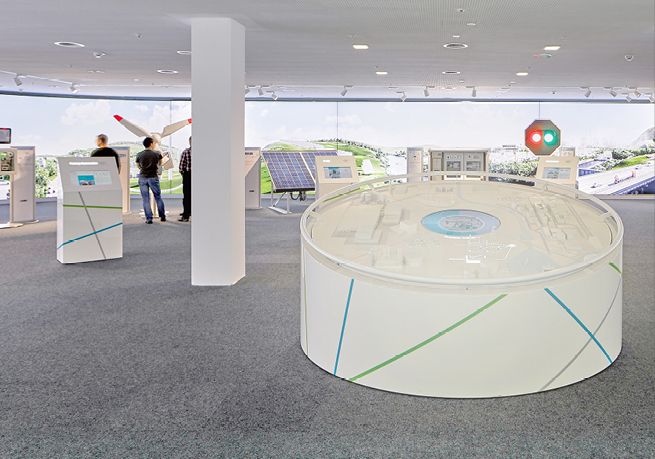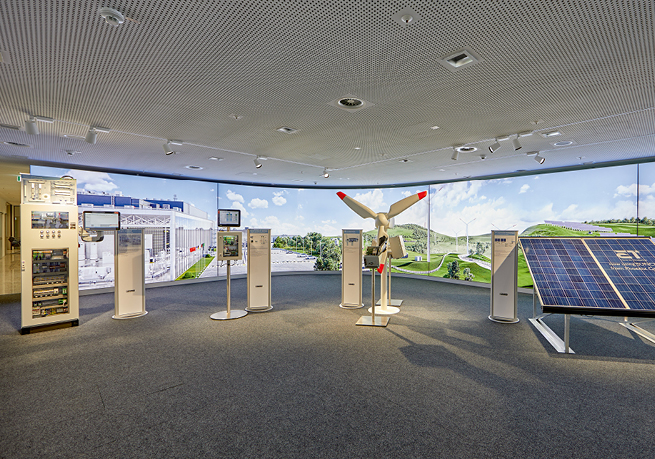 The visit as an experience
The customer and his needs are always at the centre of every solution. We have therefore staged the decisive transition from product to comprehensive solution in a media-effective manner, making it a tangible experience for customers and visitors alike. The Solutions Center offers both the 'World of Solutions' and the 'Industry Portal' as interactive and attractive opportunities to dive into the various topics and fields of application. In addition, it creates an inspiring framework for targeted presentations that directly address questions and individual needs not only of customers, but also of the company's own employees.
A rotating disc with the landscapes of the different branches. When the visitor turns the disc, a theme-specific animation with a matching sound design brings the landscape in front of him to life and shows which solutions Phoenix Contact can offer in this segment. The essential fields of solutions of the specific sector are explained attractively and vividly.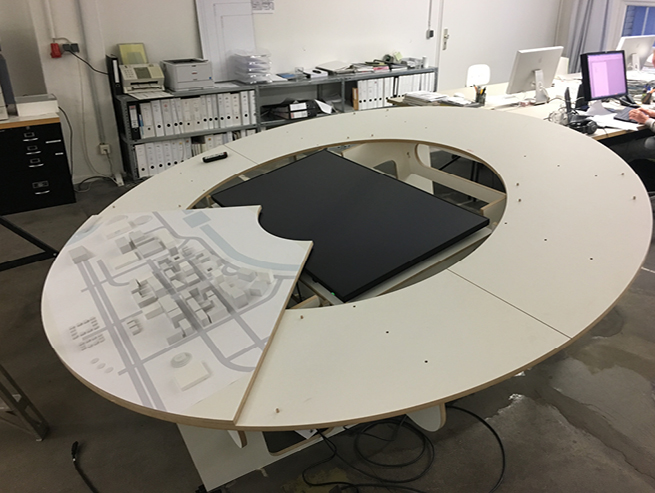 The industry portals deepen the specific applications in the target markets, for example urban infrastructures, wind energy or the oil and gas industry. The background motif shows photorealistically the typical environments of the industries, each characterized by a product model. In addition, there are media steles on which employees explain selected best practice examples in text and pictures. Further information is linked via a QR Code.
Service
Conception and scenography
Storyline
Development of interactive exhibits
Interaction concept
Content development
Design and planning
Stand design
Exhibit design
Interface design
Production of animations
Project management and implementation
Project management
Production supervision
Cost management
Project information
Client: PHOENIX CONTACT Deutschland GmbH
Execution period: 01/2016 – 01/2017
Exhibition area: ca. 400 sqm
Jan Löken
Executive Management