Jolifanto bambla o falli bambla
Like a magical bishop, Hugo Ball begins to recite his sound poem "Caravan" evocatively and solemnly. It is June 1916 and the performance takes place in the legendary Zurich Cabaret Voltaire, the birthplace of Dadaism. 100 years later his sound poem sounds again: this time as a media production in the Hugo Ball Cabinet in Pirmasens. Ball was born here in 1886.
In the roof truss of the cultural centre 'Forum Alte Post'
The city of Pirmasens honours its important son with this biographical exhibition. The scenography incorporates the winding architecture of the three rooms in the attic of the Alte Post, adds large polygonal wall elements and brings the Cabaret Voltaire to life as a playful spatial installation. Ball once wrote to his sister: "Our fame has not yet reached Pirmasens. Well, that will come. Later on." Now at the latest, the glory has arrived.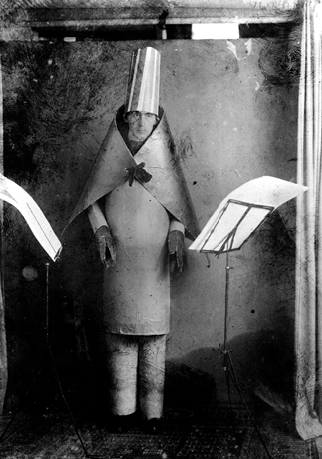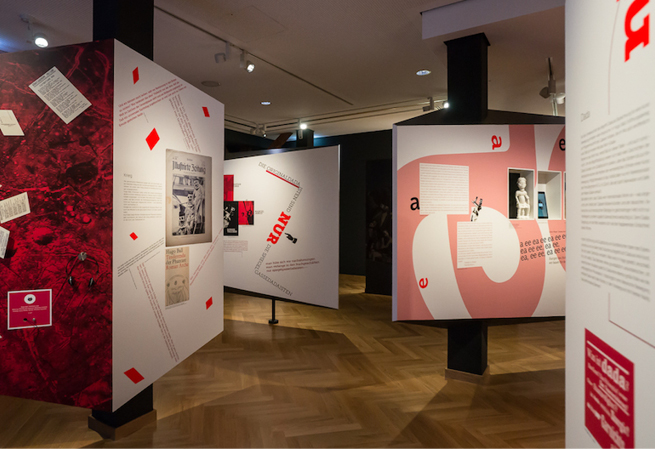 With big steps Hugo Ball moved through the landscape of ideas of his time, always with a tendency towards the afterlife, the fantastic. Visitors can wander through the three rooms of the exhibition, each of which is dedicated to a section of Hugo Ball's life in its own aesthetic.
The central space of the exhibition appears a labyrinth, dark and confusing. A figure reminiscent of Ball's appearance as a magical bishop recites the "Caravan". Collage-like images are played onto the figurine with a 3D projection and artistically illustrate the lecture. Visitors are immersed in the atmosphere of Cabaret Voltaire, co-founded by Hugo Ball. It only existed for five months and yet changed the world of art.
Service
Project development
Concept and Feasibility study
Visit forecast
Marketing and public relations
"Moderation of development and decision-making processes"
Conception and scenography
Concept positioning and thematic definition
Development of dramaturgy and main idea
Media conception and storyboarding
Development of interactive exhibits
Design and planning
Architecture
Exhibition design and planning
Project information
Client: Stadt Pirmasens
Execution period: 02/2016 – 11/2016
Exhibition area: 184 qm
Ludger Jansen
Head of Graphic Design