EPLAN – House of Mechatronics
Efficient engineering under one roof
Our collaboration with the software manufacturer EPLAN, which began in 2013 with three pilot exhibits, has continued: e-World is expanding. The walk-in House of Mechatronics, which combines all EPLAN competencies, was created as a trade fair stand for SPS Nürnberg 2015. It is supplemented by the central exhibit Efficient Engineering.
EPLAN wanted to bring its comprehensive solution competencies in M-CAD, E-CAD, PLM and configuration under one roof in a "House of Mechatronics" and to show how these solutions affect the entire value chain process: from sales, engineering and production to ongoing operation. The metaphor of a house vividly illustrates the fusion and the associated advantage for the customer of being able to use integrated and coordinated solutions for the entire process.
Starting from the data portal (pilot exhibit), the "House of Mechatronics" is broken down into the individual solution competences, which together create decisive added value for all parts of the value chain. Small illuminated data cubes on the ceiling symbolize the continuous data flow. The red symbol of the house connects the strands of the story: EPLAN's services are anchored in the (upright) house. Turned 90 degrees, the house becomes an arrow and stands for the value-added chain in which customer benefit manifests itself.
The House of Mechatronics is target-group-specific: from the outside it shows an overall picture for top-level management, from the inside details reveal themselves to users.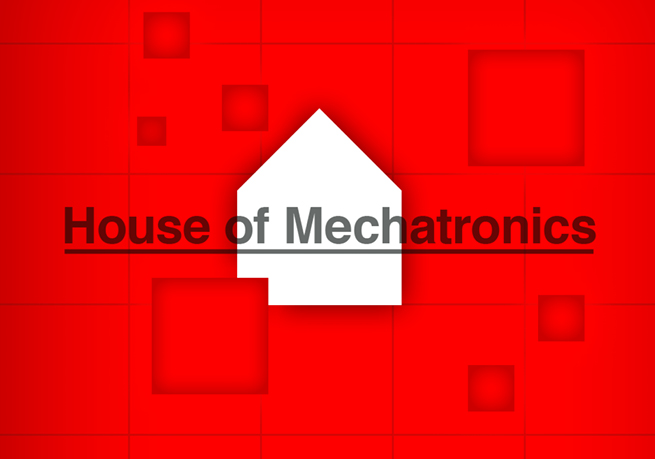 Large wooden crates are ready for delivery. Behind the machines and components there is a long working process. We don't see them in real life – the machines themselves are not at all involved – but their digital twin is clearly visible on the screen above. Various engineering workplaces have been set up: Preliminary planning, electrical planning, fluid planning … The animation on the screen above shows what is designed in parallel at the interdisciplinary workstations. The exhibit summarizes the entire performance spectrum of EPLAN solutions in terms of their methods and makes it clear: In the end, a satisfied customer can successfully deliver his goods.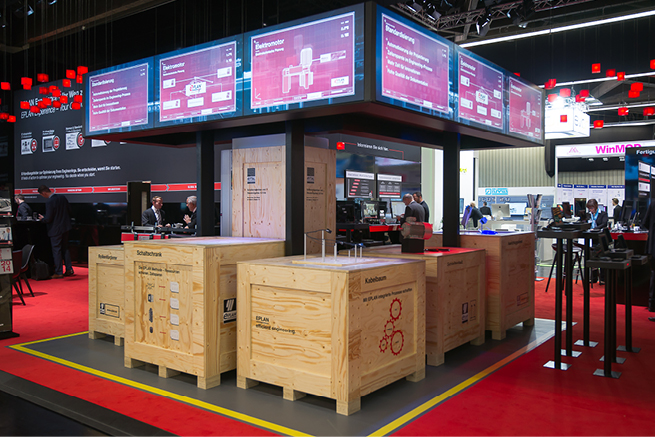 Service
Conception and scenography
Development trade fair stand concept
Storyline
Design and planning
Stand design
Production of animations
Project management and implementation
Project management
Production supervision
Cost management
Project information
Client: EPLAN Software & Service GmbH & Co. KG
First presentation: SPS 2015
Exhibition area: 300 sqm
Jelena Blank
Head of Interaction