Exhibition in the Forum Fischbahnhof
In the Sea.fish.world (See.Fisch.Welt) Bremerhaven visitors discover the habitat and origin of sea fish and learn something about the global significance of fish as food.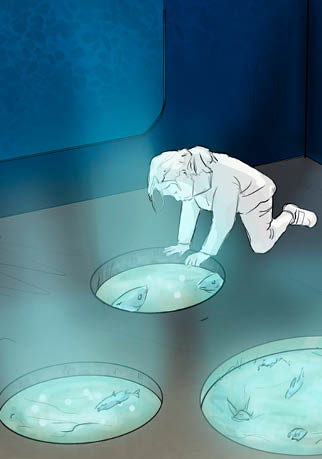 The North Sea Museum Collection interactively staged
The exhibition area planned as a competition entry is divided into various living spaces. In each habitat, visitors can discover specific topics and deepen their knowledge by means of an interactive exhibit. Important individual objects from the Nordseemuseum Collection are staged in a special way and linked with other themes in terms of content. Scenographic elements such as video stations with animated films are also used, for example to present underwater shots or to thematise the methods of fishing, fish quotas and topics relating to personal responsibility.
Services
Conception and scenography
Positioning and thematization
Development of visit dramaturgy and Main Idea
Content development and exhibition concept
Media conception
Development of interactive exhibits
Design and planning
Basic design for exhibition
Scenographic design
Project information
Client: FBG Fischereihafen-Betriebsgesellschaft mbH
Execution period: 01/2014 – 03/2014
Dr. Christopher Garthe
Consulting