Experience the EPLAN world
Industry 4.0 is all about communicating to customers the added value of complex software solutions that affect the entire engineering process of the value chain. With our expertise in explaining complicated matters in a simple manner and making connections tangible through interactive exhibits, we developed the first e-World with EPLAN Software & Services in 2013 for the SPS Nuremberg and in an extended form in 2014 at the Hanover Fair.
Software solutions that involve entire processes of industrial production cannot simply be presented as a product. Rather, the aim is to make their mode of operation, the method by which they work in reality, understandable. Only in this way will users from a wide range of industries be able to recognize the advantages offered by the new software.
As a prelude, we have realized three interactive 'method exhibits' in one spatial unit for SPS IPC Drives in Nuremberg and thus developed an innovative presentation concept: visitors to the fair can test the essential principles themselves. The motto "engineering 4 reality" can be experienced here in a playful way in a mixture of virtual (touch screen) and real elements (sliders, products).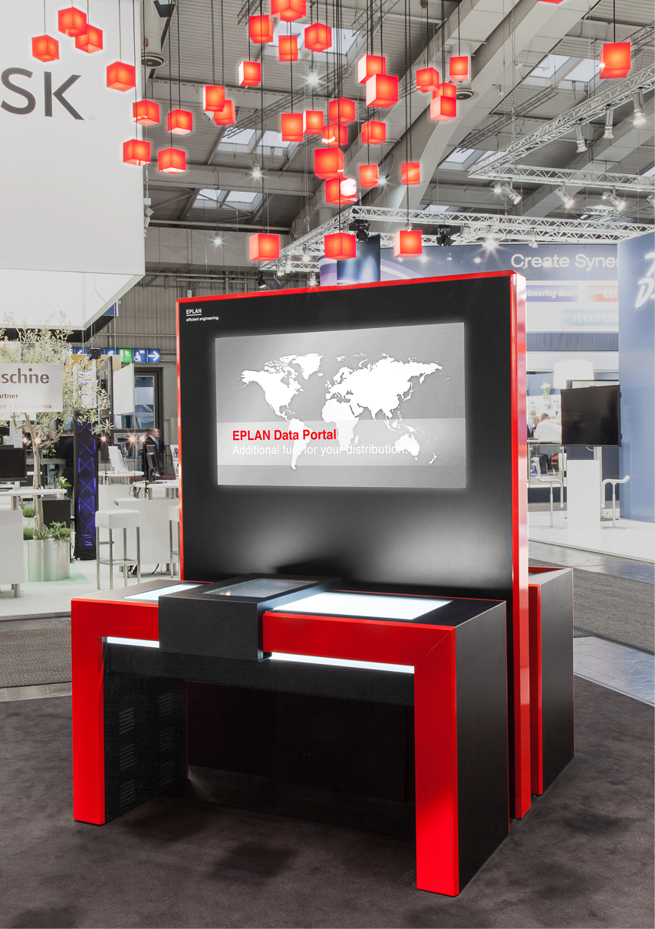 Services
Conception and scenography
Development media exhibit
Interaction concept
Content development
Design and planning
Exhibit design
Interface design
Production animations
Project management and implementation
Project management
Production monitoring
Cost management
Project information
Client: EPLAN Software & Service GmbH & Co. KG
Execution period: 08/2013 – 05/2014
Jelena Blank
Head of Interaction