Exhibition and Aquarium
Bluehouse Helgoland
Experience marine research
Helgoland rises impressively from the North Sea as a red rock massif. However, unique is not only what lies above the sea surface. Underwater, a 36 square kilometre rock base extends: the Helgoland rock tidal flat – a food paradise for an enormous variety of aquatic life. After we have won the EU-wide competition, we bring the rock tidal flat into the Bluehouse Helgoland and show this special habitat from the perspective and with the enthusiasm of the marine researchers.
The North Sea in (climate) change
Every day the marine researchers of the Alfred Wegener Institute (AWI) slip into their rubber boots. Their research field, the North Sea, is located directly in front of their offices. The AWI thus continues an approximately two-hundred-year research history on the island. But the focus of research has changed: The North Sea is particularly affected by climate change. Cod are already getting too warm – they are moving to more northern waters. Plastic and other contaminants also cause problems for the organisms in the sea. The entire ecosystem reacts to these man-made changes. Showing them is the aim of the exhibition.
In the middle of the rocky tidal flats
The Bluehouse Helgoland stages the Helgoland rock base over two interconnected floors: In the basement it presents the fascinating underwater world of this nature reserve in a large aquarium, which otherwise remains hidden to the visitors of the island. At the top is the tidal zone of the tidal flat. As if they were standing in the tidal flat themselves, the visitors experience the change of ebb and flow in impressive projections all around – sometimes above, sometimes under water.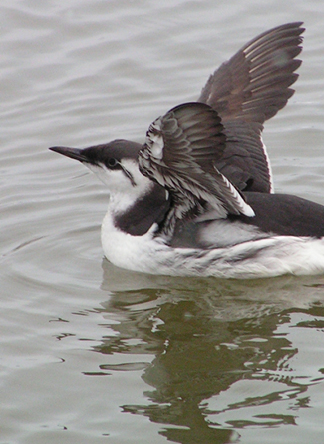 What does a guillemot eat? The interactive Explorer answers these questions here.
Research in the tidal flats
But it is not just a mere observation. At the 'Explorers' visitors can get to the core of the food webs. It's no coincidence that the famous lumpheads and gannets nest on the steep cliffs: The sea offers them rich food here. But what happens if the cod disappears as a predator, plankton is not available at the right time to feed fish larvae, or lime shells become thin due to the acidification of the oceans? Scientists explain the connections.
Services
Conception and scenography
Concept positioning and thematic definition
Development of dramaturgy and main idea
Content development and exhibition conception
Media conception and storyboarding
Development of interactive exhibits
Design and planning
Exhibition design and planning in all project phases
Development of a Corporate Identity
Graphics and guidance systems
Exhibits and furniture
Project management and implementation
Project management
Production supervision and cost management
Project Information
Client: Alfred-Wegener-Institut Helmholtz-Zentrum für Polar- und Meeresforschung
Execution period: since 08/2018
Exhibition area: 690 sqm
Claudia Baulesch
Project Management and Head of Scenography